BUILT IN 1985 AS THE FIRST "FLYRODDER" VERSION OF THE ANDERSON BOAT, THE "PURIST" HAS FISHED THE SANTA BARBARA CHANNEL AND OTHER WATERS BOTH ON AND OFFSHORE.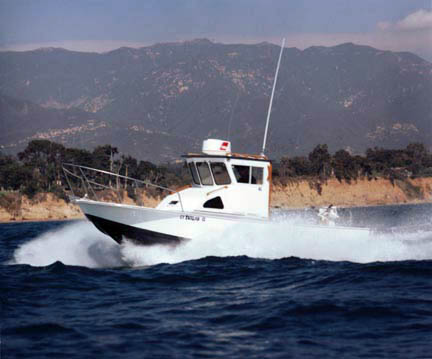 THE "PURIST" UNDERWAY. THIS IS THE FIRST FLYRODDER VERSION (ca. 1985) OF THE THEN NAMED "CHAZ 22"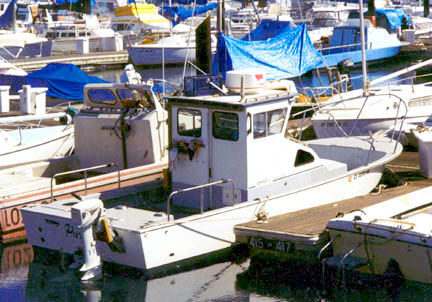 THE "PURIST" IN SLIP IN SANTA BARBARA HARBOR SHOWING DECK CONFIGURATION WITH HIGH AND LOW CASTING PLATFORMS BOTH FORE AND AFT.
The "Purist" was built for Patt Wardlaw in 1985 to fish the Pacific both on and offshore with fly-fishing in mind. It boasts a 70-gallon bait tank with pump to carry three large scoops of anchovies for chumming sport fish to the boat. It has successfully fished every game fish in the Channel and environs, Albacore tuna offshore and other species as far north as the Oregon border.
These boats are often described as "Big boats on a small frame" because of their performance and seaworthiness, yet they are trailable. Most are made to house radar, GPS chart, sonar, bunks, small galley, toilet and other equipment. Dive versions are built to accommodate all the gear necessary for air hoses and compressors with substantial catch holding capacity. Greater displacement engines or twin configurations are available.
The Anderson boats are now made in three lengths from 16 to 26 feet in length and two hull designs. They were originated as "Dive" boats for urchin divers but fishing models have proven successful. They are meant to cross the Santa Barbara Channel under most weather conditions with heavy loads of commercial catches. The have seaworthy, smooth riding deep "V" hulls.